Arsenal playmaker Alex Oxlade-Chamberlain is facing a trcky situation at the Emirates Stadium, which is set to jeopardise his place in the England squad for the Russia 2018 World Cup. The 23-year old star has been a regular face in the Premier League for many years now, having first made the headlines when he was just 17 years old. With the pace of the game now, he needs to make the right career move to be able to last long else he could lose out to time.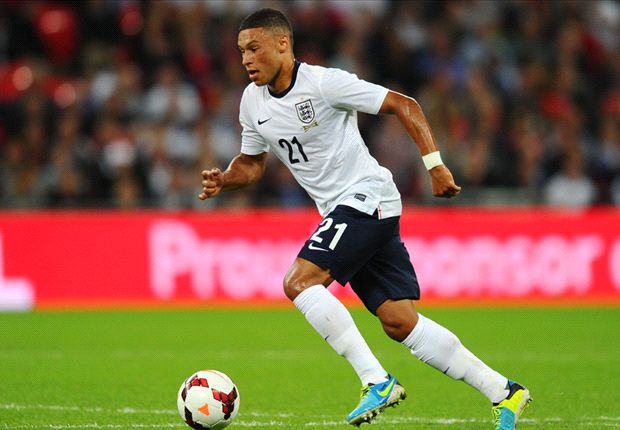 The Three Lions midfielder is thinking of his prospects if he remains at Arsenal or moves elsewhere – but where exactly? The versatile player was impressive in the wings last term so admirers are in abundance, even though his fitness records are a concern. The player wants assurance of regular football in the forthcoming season after starting just 16 Premier League game last term.
This depends on the formations coach Arsene Wenger decides to employ – when the French tactician played three at the back last season, Oxlade-Chamberlain exceled in the wing back role playing from the right. If Wenger uses four at the back, Theo Walcott stands a better chance. Walcott himself has been linked with a move away from the club. Oxlade-Chamberlain is probably better suited to a more central role but there are other factors to consider.
Aside the issue of play time and function, the wage issue persists – having committed to the club the youngster wants to earn in the range of Olivier Giroud and Petr Cech rather than Skhodran Mustafi, Granit Xhaka and many others. Since arriving from Southampton, the player has developed and Wenger openly said he wants him to stay, though the latest odds at https://sport.netbet.co.uk/live-betting/ suggest that he'll be plying his trade elsewhere come the en of the transfer window.
Liverpool are hoping to lure him with promise of regular time, Champions League football, and wages. There are opportunities in deep midfield with the fitness issue of Jordan Henderson, right back role where Nathaniel Clyne struggles occasionally and even left back role where James Milner manages. Aside the Merseyside club, Man City, Chelsea and even Everton are interested in the versatile player.
Meanwhile, former England international David Beckham made the headlines when he visited Glastonbury Music Festival for the first time.
Beckham was on-hand to plant a tree as well as watch Radiohead perform. A few campers at Glastonbury were lucky to be among those that welcomed the football star to his first ever festival in the afternoon of Friday.
Beckham had arrived at the village accompanied by Brooklyn, his 18 year old son and Liv Tyler, Hollywood actress. They were on-hand to lend their support to Michael Eavis, the organizer of Glastonbury who was carrying out a project dear to him. Beckham stood at the doorstep of one of the new social housing houses and explained to those gathered around that it was the first time he was ever in a festival and he was "slightly nervous".
"Believe it or not, I'm 42-years old and it is my first festival!" the former England national team skipper said. "I'm excited and slightly nervous because I don't know what to expect apart from the great acts and people having fun." And even though he hadn't been able to convince Victoria Beckham, his fashion designer wife to join him at the Worthy Farm, Beckham was hoping that his son would help show him the ropes since he had attended a few festivals before.
He also noted that due to his state of unpreparedness, he won't be camping at the Glastonbury but was looking forward to watching the Radiohead's headliner event set for that same night. His son Brooklyn is already turning waves with his newly embarked on Photography career and wasted no time in documenting his recent festival experience on the popular social media site, Instagram.