England coach Mark Sampson has been cleared of any wrongdoing after EniolaAluko complained of "bullying and harassment" to the Football Association, according to the BBC.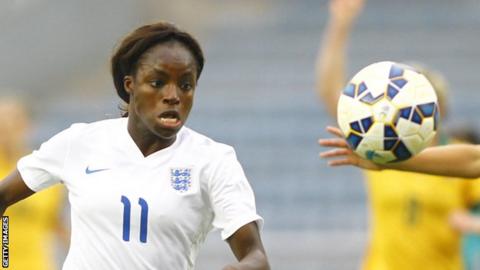 The 30-year left the team around mid-last year after submitting an official complaint.
Aluko said she was not selected for the team as she was "undermined and belittled." The Chelsea star complained of the negative bias that affected her while in the team. The FA set up an independent investigation into the matter which has not cleared the staff of any wrongdoing.
The BBC claims the confidentiality agreement that the FA and the player in question agreed earlier this year is higher than the speculated £40,000. The FA claims the settlement was a "mutual resolution" to avoid disruptions to the England squad preparations for the Euro 2017 – which the Lioness lost in the semi-final to hosts the Netherlands – and not a sum thrown to stop the player from speaking about facts of the matter.
A lot of people were interested in the matter as Aluko had been the top scorer in the Women's Super League One in 2016 yet she was not being played. The player was experienced at the top level having played at the 2015 World Cup where England placed third. Aluko has been capped 102 times and has scored 33 goals in the international scene. She appeared at the Euro 2017 not as an England player but as the first female pundit on Match of the Day for Channel 4.
Aluko complained of the "damaging behaviour and bias" from Simpson.
"I submit that Mark Simpson's negative personal behaviour towards me has led to inconsistency, disparity of treatment and confusion regarding the criteria for team advancement."
Sampson, who became the manager after Hope Powell in 2013, would continue in the role after being cleared.